Could your old stuff earn you a fortune?
02 Mar 2020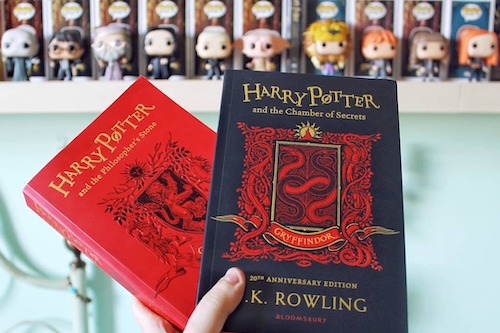 Decluttering may be the latest buzz word but could you accidentally be throwing away a fortune?
March 2 is National Old Stuff Day – a date in the calendar dedicated to appreciating things with a little of history. As we all work hard to reduce our carbon footprint, it makes sense that we should be making more of the things we have instead of constantly replacing them with something new.
Many of the items in your home could be potential family heirlooms or antiques of the future. But what is worth keeping hold of and putting into storage?
First edition books
When you think of valuable first edition books, you probably imagine ancient tomes or classics from another century. But if you have any well known modern titles, it's well worth checking whether they are a first edition. And if they are, keep them safe as they could well be boosting your bank balance in the future. Books which are already doing well in auctions include Bridget Jones's Diary, by Helen Fielding, originally published in 1996, Irvine Welsh's Trainspotting from 1993 and any of JK Rowling's Harry Potter books.
Collectable toys
Toys tend to do very well in the antiques market as nostalgic customers are often keen to buy something which brings back precious memories of their childhood. Look out for pieces which are in excellent condition, especially items which are in their original packaging. Toys from collectable licensed ranges are the most likely to become antiques of the future, including Star Wars, Harry Potter Lego sets, Power Rangers and Pokemon. Original versions of popular board games are also possible money-spinners, especially if they are in pristine condition with no missing pieces.
Fashion collaborations
If you're clearing out your wardrobe, hang on to any limited edition pieces, particularly designer collaborations with high street brands like Kate Moss and Topshop in 2007, Balmain and H&M in 2015 and Richard Quinn X Debenhams in 2018. It's also worth keeping hold of any premium designer items, especially shoes and handbags, which could become high value vintage pieces years down the line.
First generation gadgets
If you're a gadget fan who always likes to have the latest technology, you probably have boxes full of items you have replaced with the next big thing. Don't throw out any first generation versions of popular gadgets as they are likely to become collector's items in the future. Ones to watch include early versions of the Apple iPod Shuffle, Amazon Echo Voice and Dyson Supersonic hairdryer. Vintage games consoles are also becoming popular purchases by gaming fans looking to relive their youth.
Once you've separated your treasures from your trash, you may be wondering what to do with it all while it grows in value. Andrew Porter Limited offers highly affordable self storage options if you don't have space to keep it at home.
Our Pay Per Item service is a great choice if you don't have enough stuff to make renting a unit worthwhile. There's no size limit on items and boxes are counted as a single option, so you can pack up all your potential antiques together and keep them safe in our secure storage facility.