Transform the way you live this Easter Weekend
08 Apr 2020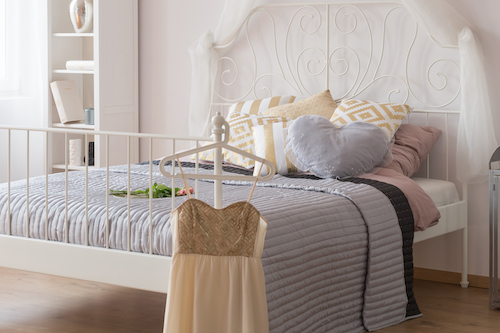 If you've become jaded with your home during lockdown and are desperate for a change of scene, the four-day Easter weekend is the ideal time to transform your home into a relaxing haven.
With restrictions in place to stop the spread of coronavirus, we're all spending a lot more time within our own four walls and you've probably spotted a few things you want to change.
Here's our four-day plan for making a real difference to your home without redecorating:
Good Friday
Clear some space so you can work out how best to use your home. When your property is full of stuff, it is hard to get it looking how you want it and clutter can leave you feeling stressed and overwhelmed. Pack up anything which isn't essential so you can start with a blank canvas. If you are struggling for storage space, you may want to consider using self storage to keep your items safe while you make changes to your home. Andrew Porter Ltd's self storage facilities in Lancashire and Cumbria remain open as essential services through the current crisis, although social distancing measures are in place to protect our staff and customers. Don't make a journey if it's not urgent, but feel free to contact us to find out more or make a booking.
Let go of things you no longer need or love and value space over objects.
Easter Saturday
Once you have reduced the number of things in your home, think about how you use the space. Experiment with the position of key pieces of furniture – don't feel tied to keeping everything exactly where it is. Try to look at the space with fresh eyes -  can you walk around easily? Are you making the most of every nook and cranny? Choose a focal point and arrange your furniture around that. In living rooms, this will often be a fireplace or a television. Move your sofas away from the walls so there is a gap of at least a few inches. People tend to think that pushing furniture up against their walls will make the room seem bigger but actually the opposite is true.
Easter Sunday
Easter Day itself is a day to relax, connect with loved ones (either in person, on the phone or online) and eat too much chocolate. But there is one simple thing you can do on this day to change the way you feel about your home. Give your bed a mini-makeover by changing your bedding and arranging your cushions and pillows so it is an inviting place that you look forward to going to at the end of the day. Consider investing in new bedding and choose co-ordinated items which will create a central look for your bedroom.
Easter Monday
Being indoors too much can have a detrimental impact on our health and wellbeing so open some windows and get some fresh air circulating around your home. Try to let as much natural light in as possible and add some plants and flowers to help you feel in touch with nature. If you want something a bit more substantial and long-lasting than a bouquet, many online retailers sell potted trees or shrubs which can make a real impact in your home. If you have a garden, spend some time tidying it up or planting seeds, bulbs or bedding plants. Gardening is great for your mental health and can lower your stress levels. Having an outdoor space you can spend time in will also make your home seem less claustrophobic.