7 ways to make moving house easier for your pets
18 Feb 2020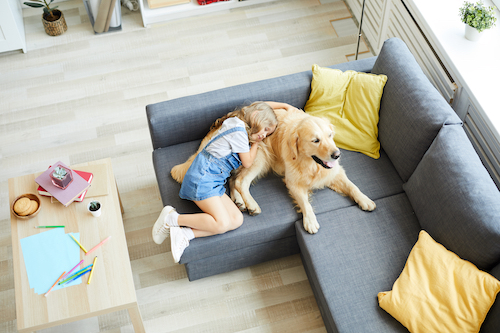 Moving house isn't just stressful for you, it can be a tricky time for your pets as well.
February 20 is Love Your Pets Day, a date in the calendar set aside for showing your appreciation for your animal companions. And if you're planning to move to a new property, you'll need to take extra care to make sure they stay safe and happy during the relocation process.
Here are our seven top tips if you're moving house with a pet:
Get a pet sitter
Moving day itself is a busy time with lots going on so one of the best ways of keeping your pet away from the noise and disruption is to ask someone else to look after them. This will also allow you to focus on the tasks which need to be done rather than worrying about where your pet is while your removal crew is coming in and out of your property.
Choose a quiet room
If you decide to keep your pets with you during the moving process, choose one room in your house which is calm and quiet and away from most of the action. Keep your pet in there with their bed, blankets, food, water and any favourite toys. Make sure the door stays shut throughout the day and tackle this room last. Don't pack your pet's things until the last minute so they have comforting and familiar items around them for as long as possible.
Give plenty of reassurance
Moving house will always be an unsettling experience for your pet as they won't understand what is going on. Give them plenty of love, attention and reassurance and avoid leaving them alone for long periods of time until you are sure they are settled and happy in your new home. Try to stick to your normal routine as much as possible and don't make any other changes, for example, switching brands of pet food, while they are adjusting to being in a different property. If you have a cat, consider getting Feliway, a product which releases pheromones to help them feel safe and secure and using it in the days before and after your move.
Don't wash their bedding
If your dog or cat has bedding, don't wash it for the first two weeks in your new home. Smells are very important to pets and they will find it comforting to have a familiar aroma around them while they settle in and get used to the new property. 
Update your details
If your pet has a collar with your address or phone number on, make sure you update the details as soon as you move. If your cat, dog, rabbit or other animal is microchipped, it is also vital that your personal information is up to date. This can often be done online or by calling the company your pet's microchip is registered with. According to The Dogs Trust, two thirds of stray dogs who are rescued cannot be reunited with their owners because they have the wrong details on their microchip. Cats often go missing after a house move so if you haven't already got them microchipped, do it before you let them out in their new neighbourhood.
Cut them some slack
Your pet's behaviour is likely to be worse than usual as they adjust to their new home. Be forgiving about accidents around the house and don't scold them if they chew items or are louder than you would like. React to their challenging behaviour with love and attention and help them to feel safe and secure in their new environment.
Don't let them out too soon
Cats should be kept inside after a house move for at least three weeks. This helps them to feel settled in the property and regard it as their home but there's a practical reason as well. Cats rely on a scent profile to find their way back home when they are out exploring and this takes time to build up. Letting your cat out too soon increases the risk that they will go missing or attempt to return to your previous property. If you have a dog or another pet that you will letting out into your new garden, check the fencing is secure and doesn't have any gaps and look for any other potential hazards which need to be addressed before you let them out.
If you're moving house and need a quote for a professional removals firm you can trust, call Andrew Porter Limited on 0800 389 1222 or get a quick removals quote online.