Managers go back to their roots for European move road trip
01 Feb 2019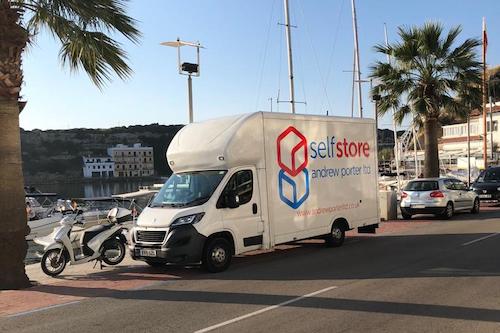 Recently, two members of our management team went 'back to their roots' to carry out two European removals projects for our customers.
Managing director Tim Aspey and Kendal site manager Stephen Gregson kept a diary of their week-long trip and we're delighted to be able to share it with you to give you an insight into the day-to-day work of our crews.
Mr and Mrs Broad were moving from Southport to Montpellier in southern France and we took a small amount of furniture and other items as a groupage load.  This was collected and delivered within 14 days.  We've since been back to take the rest of their items as the major part of their move. 
Our customers Mrs and Mrs Marshall were moving from Mahon, Menorca, to East Grinstead in England.  We collected a dedicated load from their property and delivered it to their UK address three days later.  A request for a dedicated vehicle is fairly unusual in a European removal, as normally customers decide to share loads with others to keep costs to minimum.  However the couple had explained to us this was their preferred option.  They also explained the access limitations to their property so we ensured the correct size of vehicle was chosen.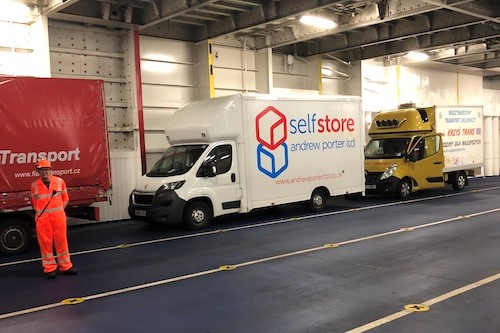 Day 1
We left Andrew Porter Ltd HQ in Adlington at 4am in a Mercedes Low Loader Luton van with Mr and Mrs Broad's effects already loaded.
Arrived in Dover to catch the midday ferry, disembarking at 2.30pm in Calais.  From there we travelled the 240 miles to Orleans in central France, arriving at approximately 8pm that evening.
Driving in France is quite a different experience to driving in the UK.  Most major roads have tolls so the surfaces are always in good condition and traffic is minimal.
Day 2
We set off bright and early at 7am to drive to Montpellier via the Pyrenees and the Millau bridge – an impressive cable-span structure which stretches 2,460 metres over the gorge valley of the Tarn.
The roads leading up to the bridge were fairly narrow and windy and it was not an easy journey in a heavy vehicle.  The views were quite something, though!
We arrived at Montpellier at around 4pm after the 370-mile journey and unloaded Mr and Mrs Broad's belongings into their new home.  Vehicle access at this point was extremely limited and for this reason we had to use the Luton van for the delivery, as a larger vehicle would have been unable to get down the narrow village lanes that led to the property.
Our fantastic customers treated us to cold drinks and home made food, which we were very grateful for!
From here we travelled 220 miles to Barcelona to catch the overnight ferry to Mahon, leaving at 10pm for an eight-hour sailing.  We were very tired after a long day of driving.
Day 3
Arrived to the incredible scenery at Mahon harbour at 7am and travelled to Mrs and Mrs Marshall's address.  Again, access was restricted through the village and so the smaller van was required.
We collected their furniture and belongings, loaded them into the van and then travelled to their nearby self storage unit to collect their remaining items.
Mr and Mrs Marshall treated us to a wonderful breakfast in the sunshine at Mahon Harbour and made us feel very welcome.  It was great to add a personal touch to the job by getting the opportunity to spend a bit of time chatting with our customers.
Our return ferry to Barcelona left at 4pm with a six hour sailing time and we checked into a hotel that evening.
Having a van full of valuable belongings, it was important to find secure, purpose-built parking facilities that were large enough to accommodate the vehicle.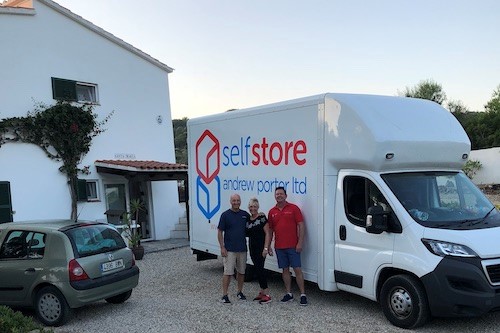 Day 4
We enjoyed a day of downtime seeing the sights of Barcelona.
Day 5
We had an early start at 7am for a long day of driving.  It was more than 500 miles to our next stopping point of Dijon.
Day 6
It was another 7am start to head to Calais – around 320 miles away.  We caught an early evening ferry and parked up at Dover for the night.
Day 7
We arrived in East Grinstead, West Sussex, for 10am and finished unloading Mr and Mrs Marshall's belongings into their home by midday.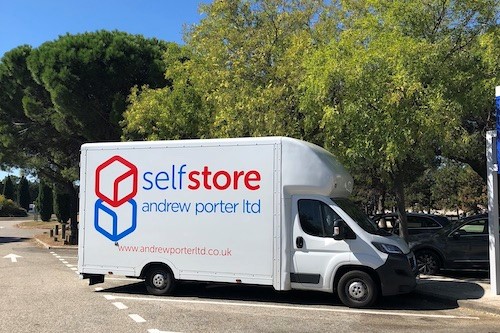 Finally we headed back to Adlington arriving back at 4pm.  It had been a very tiring week's trip and we came away with nothing but admiration for our team of removal crews who work such long days and always treat our customers – and their belongings – with respect.  We consistently get customer feedback about the friendliness of our crews and that's something we are really proud of.
Our trip also cemented the huge importance of the removal planning process that is performed by our head office team.  It is very time-consuming to plan the optimal routes and ensure that these fit in with fixed timings such as ferries.  This is vital in order to provide an accurate schedule for our customers.
Finally our European adventure confirmed just how important it is for us as a company to ensure we get accurate and complete information from our customers before any move is planned.  Any discrepancies in the volume of goods, or access to the property, for example, could cause disaster – and potentially could delay following jobs.
It was fantastic for us to see the business from the eyes of our staff and it's made us even prouder of all the hard work they put in to ensure our customers' moves go smoothly.