Things You Need to Consider Before a Move to Australia
25 Jan 2019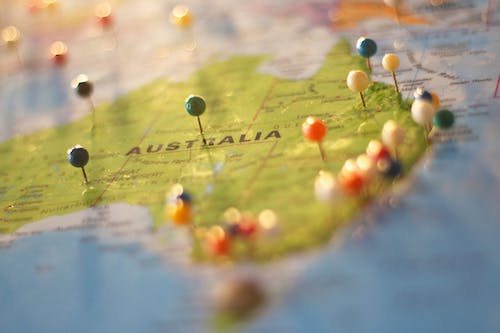 Author Bio: Jessica is the head of content for Hire A Mover - her father's moving company in Australia. In her spare time, she enjoys travelling around the world to different surf spots and tasting the local cuisine.  Here she shares some insights as to what to prepare for if you are planning a move to Aus.
More and more people from all over the world are considering moving to Australia, and that is not a surprise at all. When you consider all the things that Australia offers to its citizens, that wish is a very logical one.
In a world full of air pollution, Australia is one of the places in the world that has the lowest levels of air pollution. In addition to this, the diversity of natural ecosystems should've made the point already. Australia has everything from tropical rainforests and sandy beaches, to snowy mountains and deserts.
Another great thing about the country is that Australia is truly a multicultural society that respects diversity, while at the same time having the lowest population density out of all the continents in the world. Oz has the perfect life-work balance with a strong economy and low unemployment rate. Their healthcare system is one of the best systems in the world.
If you take all of these things into consideration, it's fairly clear why Australia is a great place to live. So if you're about to move there yourself, you should still consider some things.
Packing
Don't go too crazy when you're packing your suitcases since this might cost you a lot of money. Bring with you only the essentials, and this about how you will handle the rest of your stuff. Depending on how long are you planning on staying in Australia, you can either rent a self-storage unit where you will keep the things that you can't take with you, at least right away, or you can hire a shipping service that will make sure your things will arrive in Australia. Keep in mind that the shipment of things will usually take longer depending on where you are living currently. It can take up to three months or even more. So the sooner you send it, the better. This is a good option because a professional shipper will know the regulations and what you can and cannot bring into the country.
Customs regulations
When it comes to what are you allowed to get into the land down under, you have pretty strict regulations. Before you arrive in Australia, you will have to fill up an Incoming Passenger Card where you will mark any goods that you're carrying that might be a biosecurity risk (plants, animal products, some foods). The Australian government is very serious about this, and you even have to be careful if you have anything that has been in contact with animals, plants or soil. This is their way to stop animal/plant infections from coming into the country. Your baggage might be inspected even if you didn't declare any of these goods, so be sure to be honest since there will be penalties for anybody who is caught with not allowed possessions. 
Take care of your possessions
If you're leaving permanently, you won't need your apartment, car, furniture, etc. Make sure you have a plan as to what to do with those things. You can sell whatever is sellable, and the inevitable thing is that you will just have to get rid of some things that you accumulated during the years, but you can't take with you nor sell. Since Australia is very expensive because, you will need all the money that you can gather before moving there.
Accommodation
One of the crucial things is to find a place where you can stay at once you step foot in Australia. Buying your own place in Oz will be almost impossible since the housing market is quite expensive. The chances are you're going to have to rent a room that is already furnished at least until you're on your feet. You can try searching for something on websites such as Gumtree and Flatmates.
Bank account
One of the things that will make your transition easier when you arrive in Australia is setting up your own Australian bank account before you even arrive. There are four major banks where you can set up the accounts online, and those are Westpac, Commonwealth Bank, National Australia Bank (NAB), and Australia and New Zealand Banking Group (ANZ).  On their official webpages you can see all the information in regards to the documentation that you will need to apply for an account. 
Australian culture
If you want to fit in the new environment, it's a good idea to study a little bit the culture of Oz and what people like there. The coffee obsession is a real thing. Aussies have a huge coffee industry which they love and respect a lot. If you like a strong coffee, you will have a blast there. Australian people also are fond of drinking alcoholic beverages which is why they have a rich palette of locally brewed beers and other distilled alcohols. However, you should look up their awkward beer sizes such as a pony, a butcher, middy, schooner, pint, and more! These are even different in different regions of Australia so do your research. 
Another thing that they value a lot it's their barbecues. They have barbecue pits all over their national parks and beaches. It's a great way to meet the locals as well. Surprisingly, along with all this booze drinking and barbecue eating, Aussies really do love to sport! Some of the sports they like the most are cricket, football, rugby, and their famous horse race The Melbourne Cup.
Be careful
Although you have heard the stories about all the snakes and spiders that can kill you in Australia, the real picture is not that scary. Of course, some animals are deadly, but those can rarely be found in urban environments, so you are pretty safe in that direction.
The thing you have to pay more close attention to is the sun. The ozone layer above Australia is unusually thin which makes the radiation from the sun even stronger than in the other parts of the worlds. The thing that you have to know about this is their very famous rule called Slip, Slop, Slap which means to slip on a shirt, slop on sunscreen and slap on a hat. By doing this, you are protecting your skin from the high temperatures.
A different danger that is happening in Australia is the bushfires which are very often. Although they are more likely to happen in suburban environments, it's very important that you are aware of them and that you follow the fire alarms and the governments' warnings. If you have bushes around the place that you live in, make sure that you take care of those since it's very easy for a fire to start in high temperatures.
The weather can also be quite confusing. It's not all sunny and warm as we all depict it all the time. There are places such as Melbourne that is known to have four seasons in one day due to the unpredictable weather conditions. Having this in mind, you should also know that there are places in Oz where you can see snow and participate in some winter sports.
Although there are many more things that will be helpful to know before you move to Australia, these are some of the most important to grand you a safe and as less overwhelming as possible transition into your new home.