Make summer last longer with the best garden toys
21 Aug 2020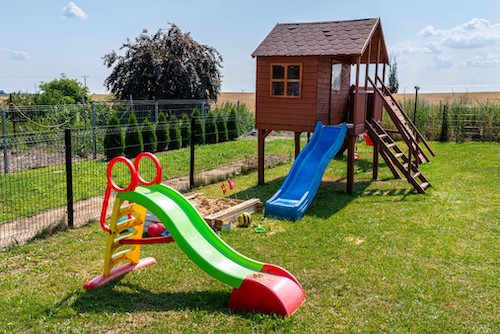 It's not too late to invest in some new garden toys and make the most of summer.
Long range weather forecasts by the Met Office suggest the UK will experience warm weather until at least the middle of September. Often referred to as an Indian summer, warm temperatures in autumn can help beat the back to school blues and encourage children to get active outdoors.
And don't let a lack of storage space put you off encouraging outdoor play in your garden. Putting bulky outdoor toys into self storage over the winter is a great way of protecting them from the elements without taking up valuable room in your attic, garage or shed.
Andrew Porter Ltd offers great value seasonal storage at its purpose-built sites in Lancashire and Cumbria. And with secure units and round-the-clock CCTV, your children's treasured toys will be kept safe, dry and clean ready for playing with again when spring arrives.
Late August is also a great time to pick up some bargains when it comes to outdoor toys and play equipment as many retailers start to offer discounts. Here are our top picks to get now before the end of summer:
Ride-on toys
Whether they are toy cars, go karts or animals with wheels, ride-on toys are fantastic for developing your child's motor skills and encouraging them to get moving. Learning to steer their vehicle of choice and make it move by themselves will help them gain a greater understanding of their own body and the concept of cause and effect. For young children, you can't go wrong with a Wheely Bug, which can move forwards, backwards and sideways on four wheels. Designed for children aged 12 months and over, the sturdy wooden base means it is built to last. For older children, the Suzuka Air – a pedal go kart for four to eight-year-olds is a popular choice and has a handbrake and a height adjustable seat.
Water toys
Water play helps children work on their hand-eye co-ordination as they practice skills like pouring, sieving, squirting and stirring. It is also a calming sensory experience and a great way of cooling down on a hot day. Water trays are ideal for young children like this AquaPlay Mountain Lake by Smoby, which combines water with small world play or Little Tykes Magic Flower Water Table, which has four levels and is large enough for several children to play with at once. Other great options include paddling pools, sprinklers, water pistols and water balloons.
Dens and playhouses
Having a den or playhouse in your garden will spark your child's imagination and encourage role play and creative thinking. Wooden or plastic houses may be the most popular choice but there are plenty of other options on the market. This Chad Valley foldable playhouse is ideal for packing up and putting away in storage during the cold winter months. If you want something more inspiring than a simple house, how about a teepee like this wooden hideaway by Plum or this wooden pirate galleon.
Swings and slides
Although many playgrounds have now reopened after lockdown, many parents are still worried about visiting them due to concerns about coronavirus. Buying some play equipment for your garden will mean your child can have the fun of the playground without worrying about social distancing. Think about what your child's go-to playground favourites are before deciding what to invest in. Swing sets and slides are common garden choices and often come as a combined set. If you have the space, this JuniorFort tower has a climbing frame, swing and slide to keep children busy and help them let off some steam. If you want something you can easily take down and put away when not in use, the Quadro Play system can be built exactly how you want it and then dismantled and rebuilt as something else whenever you want.