Four ways you can use lockdown to make moving house easier
05 May 2020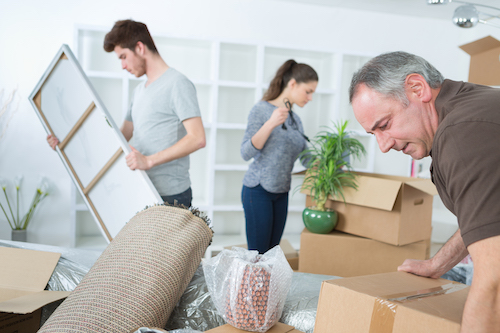 House moves may be on hold to try to slow the spread of coronavirus but lockdown is actually the perfect time to get ready to buy or sell a property.
The official advice from the government states that people can still go ahead with moves if the property they are moving into is empty or there is no other alternative. However, for most people, moving house has been put on hold until the UK's lockdown restrictions are relaxed.
But what can you still do while the population is urged to stay at home?
Do your homework
If you are planning to buy a new property, now is the ideal time to do some comprehensive research into the areas you are looking at moving to. Look online to see if there are any neighbourhood forums or Facebook groups. Reading posts by people who already live there can help you build up a picture of what the area is really like. Use Street View Google Maps to check out the appearance of the area and what kind of housing there is. If you've seen properties for sale which you like the look of, this will allow you to see what the street and surrounding area is like before you can actually pay a visit in person. Research house prices by looking up addresses on Zoopla and check what facilities and amenities there are nearby. If you have children or plan to start a family, look at which schools are in the area. Reading the Ofsted report and visiting the school website will help you get an idea of whether it is somewhere you would want to send your child.
Get your home market-ready
The end of lockdown is likely to see a big increase of homes going on the market. Help your property stand out from the crowd by putting the groundwork in during lockdown. Declutter your rooms and leave just a few key pieces of furniture in place so anyone looking at your property can visualise the space and imagine themselves living there. Clearing space will make your property look more attractive for both photographs and viewings. Put any personal possessions and furniture you don't need into self storage until you have accepted an offer. Putting items into storage will also make it easier for you to redecorate any areas which need attention. Most DIY shops have now reopened their doors so you can tackle any home improvement tasks which will increase your chances of securing a sale. Even something as simple as a fresh coat of paint or tidying up the garden can make it easier for you to find a buyer.
Start the packing process
One of the worst things about moving house is packing everything up and working out what to take with you to your new property. Going through everything can be very time-consuming and if you're up against the clock, it can really add to your stress levels. Save yourself time and trouble later by starting the process now. Box up items you want to sell or donate once lockdown is over and pack away any treasures you want to keep but don't need to use on a daily basis. If you are short on space, put these boxes into a self-storage unit. This will help you see the progress you are making and allow you to focus on the items which remain. Don't leave your attic, shed, garage or cupboard to the last minute. Going through all the items you've forgotten about while you have the time will make the packing process much easier when you are ready to move. Many local authorities have restricted the opening hours of tips or household waste recycling centres and stopped their own collections of bulky items so consider hiring a skip to dispose of any rubbish safely and legally. Set yourself goals of going through one area of your home each week. Think carefully about the items you will need over the coming months. You don't want to be rummaging around in boxes for essentials so keep out anything you know you will use.
Check out deals
No one knows yet what the true economic cost of lockdown will be but house prices are expected to fall as people's incomes drop and unemployment rises. The estate agents Knight Frank has predicted that house prices will fall an average of three per cent during 2020 but will recover and rise by five per cent in 2021. Any price drops this year may mean deals and initiatives will be launched to help people looking to buy homes and stimulate the housing market. Shop around for the best mortgage deals and get mortgage advice from an independent adviser. If you're a first-time buyer then a fall in house prices may bring more properties into your budget. Low interest rates may also mean there are some attractive mortgage deals available although it is possible that banks may impose more restrictions on who they lend to until the economic situation improves. Crunch the numbers and make sure you look into different deals – don't be tempted to just go with the first mortgage provider you come across.