Five things to consider when choosing archive storage for your business
21 May 2020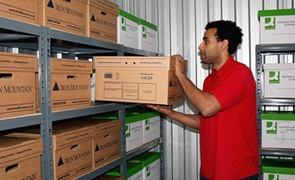 Paperwork, documents and archives can take up a lot of room and hiring storage can free up valuable space at your business premises.
But how do you choose the right company to keep your paperwork and data safe until you need it? Here are five vital things to consider before hiring a storage unit for your business archive:
Can you access your files when you need to?
One key thing to find out when you're looking for self storage is how easy it will be to access your unit and its contents during your rental period. Think about how often you are likely to need your documents and how quickly you will need to access them. Check the storage facility's opening times and whether or not they require you to give notice to access your unit. At Andrew Porter Limited, customers can access their unit as often as they need to during opening hours with our Lancashire site open seven days a week and our Cumbria site open every day except Sunday.
What measures are there to protect your privacy and confidentiality?
Many business documents include private and confidential information, including the personal details of customers or sensitive financial records. When looking for a self storage facility, check out what security measures are on site to keep your business archive safe and secure. Will anyone else be able to get into your unit? Is CCTV in operation? Is the site protected by an alarm? Do the staff have a good understanding of the importance of preserving privacy? Andrew Porter's facilities are monitored by CCTV round the clock and covered by a BT Redcare alarm system for our customers' peace of mind. In addition to this, all our self-storage units are individually locked so only our clients can access their contents.
How flexible are the terms?
Before renting a storage unit, it's important to think about how long you will need to use it and how flexible the company is if your circumstances change. Some companies will expect you to commit to a certain length of time and it may be worth weighing up whether short or long-term solutions are the best fit. Can you swap to a larger or smaller unit if you need to? Read all the small print before signing any documents and make sure you are not committing to anything you are not sure about. Andrew Porter offers the ultimate in flexibility – you can rent your unit for any length of time, just give us one week's notice when you decide you no longer need it. We also make it simple for our customers to switch units if they find they need more or less space.
Do you need insurance?
Specialist storage insurance is always a good idea when you are keeping important documents and paperwork somewhere other than your business premises. No matter how careful people are and what measures are put in place, unexpected events can happen and it is wise to make sure you are protected against loss or damage. Andrew Porter offers removals insurance which covers all your items while they are in our care, including when they are in transit on the way to the storage facility and while they are in storage. There is full coverage against a range of things including fire, theft, storm damage, breakage and vehicle accidents.
Is it cost-effective?
As with all business decisions, it is important to look at the cost of self-storage and work out whether it is cost-effective. Are there any special offers for new customers you can take advantage of? It is worth bearing in mind that while storage comes with a cost, it could help boost productivity at your business premises by giving you more space to operate in. If you are a start-up business operating from home, it could prove cheaper than renting secure office space and ensure your documents are stored securely so you can meet data protection laws.