5 things you need to do if you plan to move house over Christmas
21 Oct 2020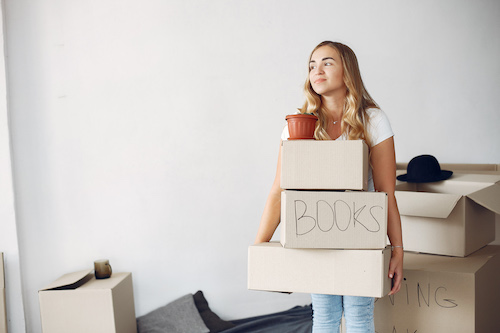 Moving house at Christmas can be a daunting prospect but there are plenty of things you can do right now to take the stress out of a festive relocation.
This Christmas, there could be a surge of house moves as people take advantage of the time off work to get in their new homes ready for 2021. And with stamp duty suspended on the first £500,000 of all property sales until March 31 in both England and Northern Ireland, buyers are under pressure to complete any purchases before the tax is reinstated.
So how can you plan for a December move?
Book your removal firm early
Don't delay when it comes to booking your removals firm. Get quotes from firms now and book your moving date as soon as possible. December can be a busy time for bookings as people try to get into their new property in time to celebrate Christmas or New Year. Others choose to move during the holidays so they can take advantage of offices and businesses being shut and having time off work. However, remember that staff at removals firms will be taking time off for Christmas too so booking in advance is essential as slots will quickly fill up.
Start packing now
Christmas is always a hectic time with lots to organise and while social distancing and restrictions might limit some of this year's celebrations, it will still be a busy period. Get a head start by packing up the things you won't need over the next few months now. Pack up your summer clothes, garden equipment and items you don't use often and consider putting them into a self-storage unit until you are ready to move. This will allow you to make headway with your packing without feeling like your home is being taken over by boxes. Andrew Porter Limited's Self Store offers a 50 per cent discount on the first eight weeks as well as a free collection service, making it a very affordable option.
Make a detailed plan
Create a comprehensive moving plan with an expected timeline. Include all the little jobs you might otherwise forget like arranging for your post to be redirected to your new address and contacting your utilities providers.
Keep your Christmas things separate
If you will be moving into your new home just before Christmas, you will need to be able to get to your presents, decorations and tree quickly without having to worry about unpacking every single box to find them. Plan in advance what you will need over Christmas and New Year and pack them in clearly labelled boxes so you can quickly give your new home a makeover and celebrate in style. You may think you won't bother decorating this year but even putting up a few little festive flourishes can help your new house feel more like a home.
Be prepared for bad weather
Moving during winter can be made more complicated by bad weather. Check forecasts in advance of moving day and allow extra time for the journeys you need to make. Simple things like scattering rock salt on your path or driveway if the weather is icy can make life safer and more pleasant for both you and your home removals crew. Keep your kettle handy to make hot drinks during the move itself and pack it last so you can quickly unpack it when you get into your new home.