Property market is booming as lockdown measures ease
03 Sep 2020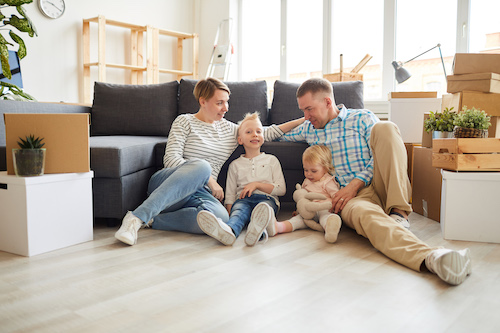 A surge in enquiries on estate agent websites suggests people are ready to move house again as lockdown eases.
With strict social distancing measures in place, the housing market started to stall in March when people were told they must remain at home to slow the spread of COVID-19. With home removals firms unable to operate and viewings having to take place online, many people put their relocation plans on hold.
But now as lockdown measures are relaxed and the UK starts to reopen again, experts are predicting there will be a mini property boom.
The Yomdel Property Sentiment Tracker (YPST) claims the number of people visiting estate agent websites in the week ending August 23 is 36 per cent higher than the same time last year. The report also claims enquiries from sellers are 111 per cent higher than during the same week in 2019.
And Zoopla claims those homes which are already on the market are selling their properties quicker than before the arrival of Covid-19. Research from the property website revealed the average home had found a buyer just 27 days after being put up for sale, compared to 39 days last year.
The most popular homes at the moment are larger four and five bedroom properties, according to Zoopla. This is perhaps because spending more time at home during lockdown has left people craving more spacious abodes.
A spokesman for Zoopla said: "Four and five-bed houses are selling 33 per cent faster than in 2019, as buyers prioritise more space."
Three things to do if you're planning a move
Consider storage
A self-storage unit is a worthwhile investment if you're moving house. If you are selling a property, then it is a good idea to put some of furniture and personal belongings into storage while you get photographs taken and offer viewings. When it comes to showing a property's full potential, less is often more and people are more likely to make an offer if an apartment or house has plenty of clear space and is clutter-free.  Andrew Porter Limited has units in all shapes and sizes available for as long as you need them, whether it is just a few days or a number of months. 
Containerised storage can also be useful if you need to leave your existing property before you can move into your new one. Having somewhere safe where you can store the contents of your home gives you more flexibility if you find yourself between properties for a period of time. The first four weeks of containerised storage with Andrew Porter is currently half price and with this service your belongings are kept securely locked up until we deliver the sealed container back to you once you move.
Do your research
With more properties being put on the market, there are more homes to choose from so make sure you do your homework about the areas you are interested in moving to. Look at what local facilities are, what the schools are like and how convenient the transport links are. Think about what your needs are now and what they are likely to be in the future. And remember it is worth choosing a house which will have mass appeal as it will be easier to sell on if you decide to move again. For example, you may not have school-aged children but properties located near schools with a good reputation have a positive impact on house prices and will make your home easier to market in the future.
Get quotes from removals firms
Using a professional removals firm will make the process of moving house simpler and less stressful. However, reliable companies with a good reputation can get booked up in advance so it is worth getting quotations and choosing who you want to use as soon as you can. For a free quote or to arrange a removal survey, call 0800 389 1222 now.