What's the difference between self-storage and containerised storage?
29 Sep 2020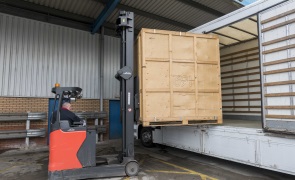 If you're thinking about putting your stuff into storage, you might be a bit confused about the options available to you.
Should you rent a self-storage unit or would containerised storage be a better choice for you? Andrew Porter Limited offers both types of storage and each has its own advantages.
Why self store might be right for you
With self-storage, you rent an empty unit and choose what to put inside it. It can be used for anything from storing the contents of a property while you travel to providing a stockroom for your business to free up space on your premises.
Flexibility – One of the biggest advantages with self-storage is how flexible it is. You can access your unit whenever you want to during the facility's opening hours, which makes it ideal for people who will need to get to items on a regular basis. In contrast, access to containerised storage must be arranged in advance. With Self Store, you can also choose which size unit you need and how long you need it for so you only pay for space you actually need.
Privacy – With self-storage, you can bring your items to and from your unit yourself. Although Andrew Porter Limited does offer a collection service and has staff on hand to help customers move items while on site, some people prefer to handle everything themselves. With self-storage, you have complete privacy and will have complete control over who accesses your unit.
Special offers – Although self-storage can work out pricier than container storage, there are often great deals available to reduce the cost. Andrew Porter is currently offering up to 50 per cent off for the first eight weeks. Prices start from as little as £7.50 a week and our professional removals crews will collect your items from you for free so you don't have to worry about transporting your things to your unit. We also offer a 10 per cent discount on storage for anyone working for the NHS.
The advantages of containerised storage
Container storage involves filling a mobile unit with your belongings. This container is then sealed and taken to a dedicated storage site.
No hassle – Once you've booked containerised storage, you really can sit back and leave it to the professionals. A removal crew will visit your home, collect your items, take a detailed inventory and securely pack them into a storage container. This container will then be sealed for security and taken to a dedicated site until you need it again. It will then be delivered back to you and unsealed.
Cost-effective – While you'll need to pay for your removal crew to load your container and deliver it into storage, container storage is typically the cheapest ongoing method of storage, especially if you have a large number of items or need somewhere to keep your items on a long-term basis. Andrew Porter Limited is currently offering new customers 50 per cent off the first four weeks of containerised storage.
Secure – As each container is sealed before being put into storage, the contents are extremely secure. Customers are only able to access their containers with pre-arranged appointments, which means fewer people will be entering the warehouse where your container is stored. The warehouse is also fully alarmed and monitored remotely at all times.
To find out more about the storage solutions we offer and to discuss your needs, call our team on 0800 389 1222.