31/05/2013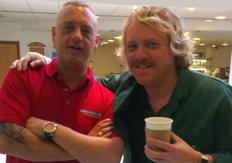 We spent a week at ITV's Quay Street offices in Manchester earlier this month completing the strip-out after the company's move to nearby MediaCityUK, in Salford.
Parts of the Coronation Street studios are still situated in the Quay Street premises and that's where we bumped into Keith Lemon, pictured here with our crew member John Porter.
It had been rumoured the Celebrity Juice host was filming a cameo for the soap but he was actually shooting scenes for his new show Lemon La Vida Loca.
We will be revisiting Quay Street later in the year for a further phase of the strip out. As part of this job, we have also disposed of all unwanted furniture and fittings. We are hoping to sell the majority of the furniture with any proceeds being donated by ITV to their charity appeal "Text Santa". Everything else will be disposed of sustainably either through charitable organisations or by being recycled.