26/05/2020
Andrew Porter Ltd and sister company, laboratory relocations specialist Aport, have supported the creation of a tribute to NHS staff and keyworkers.
The firms have sponsored a community project close to their UK headquarters that has been a real team effort to create.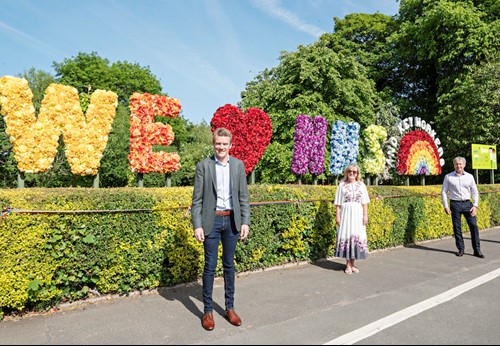 Aport normally works with clients throughout the world including pharma giants and OEMs, but during lockdown it has focused on supporting causes close to home including offering free services for NHS working to fight coronavirus.
The floral tribute in Friends of the Cherries Community Garden, Wigan, reads 'we love NHS and keyworkers' and features a rainbow – all made by local florists and paid for by businesses in the area.
The brainchild of Sarah Crookston of The Rose Boutique, the artwork was planned and created in a matter of weeks.
"Some of the comments we have received have brought a tear to my eye," Sarah said. "I had been chatting with florist friends of mine and we wanted to do something to show our support for the amazing work that the NHS and key workers are doing. I got the inspiration when I saw a similar installation at St Thomas' Hospital in London.
She added: "I approached our accountant NR Barton for help with funding who then got Aport on board too. This has been a real community effort and it's really touching how everyone has come together to make this work."
Managing director of Aport and Andrew Porter Ltd, Tim Aspey said: "I grew up close by to where the tribute has been installed and our head office is not far away. With all the work Aport has been doing for the NHS, and the fact Andrew Porter Ltd Self Storage has many customers in Wigan, this seemed like a perfect project to support. It looks wonderful and is testament to the hard work of everyone involved."
All NHS staff can claim a 10% discount on any self storage at Andrew Porter Ltd's Adlington or Kendal sites.
The floral art was created by The Rose Boutique, Wild Flowers, Perfect Daze, Garlands Florist, A&M Flowers and Hedgerow Florists. It was supported by The Friends of the Cherries Community Garden, NR Barton, Jewsons, Wigan County Council, Spicer Designs and Brighter Borough Funding, along with Aport.
For more information see aportglobal.com.